February 14th, 2011 by Rachel, Megan and Jessica | Published in Headline, The Look | 1 Comment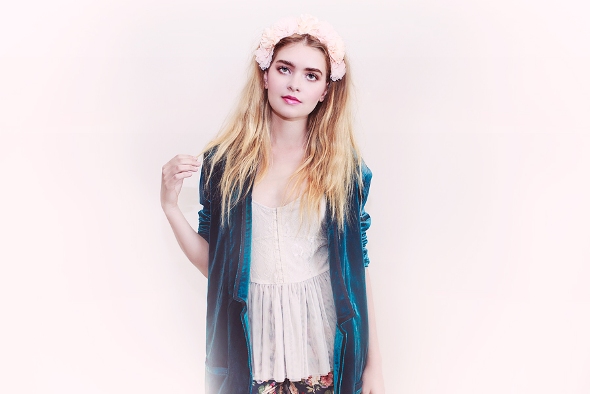 "Is this the generation of love? Hot blood, hot thoughts and hot deeds? Why, they are vipers." – Troilus & Cressida, William Shakespeare.
We have lost our way in love. From Bieber Fever to Warney the nature of romance seems very misguided. This Valentine's Day, look to where it all began. Look to Romanticism.
True Romanticism, essentially, was not about anything 'romantic' per se; it was a rebellion against scientific rationalism and the industrial revolution. Well, I say lets rebel. Against the current culture of 140 character public flirting and love affairs that are finished faster than your morning coffee. Be instead inspired by the original, true Romantics. Look to Keats and his velvet coats, the dreamy aesthetic of a Turner painting, lace, florals, and the fresh face of Juliet Capulet. Wear your heart on your sleeve and be the still point of the turning world.
Look 1
Jacket - One Teaspoon Smoking Jacket, $250 | Top - Sportsgirl Boudoir Cami, $79.95 | Shorts - Sportsgirl Gracie Cord Short, $79.95 | Shoes - Sportsgirl Jill Wedge, $159.95 | Headpiece - Sportsgirl Hula Girl Floral Garland, $19.95, Worn Throughout.
Look 2
Top - Bassike T Back Dress available at THAT STORE, $130 | Skirt - Shona Joy Lights Out Skirt available at David Jones, $160 | Tights - Nathan Smith Rib Tights, $69.95 | Shoes - Sportsgirl Jill Wedge, $159.95
Look 3
Top - Bassike Voile Singlet in Shell available at THAT STORE, $120 | Skirt - Rachel Gilbert Zane Skirt, $495 | Scarf - Sportsgirl Lace Spliced Scarf, $24.95 | Bag - Sportsgirl Lena Sling Bag, $24.95 | Cuff - Sportsgirl Burlesque Cuff, $19.95 | Shoes - Sportsgirl India Creep Wedge, $149.95
Look 4
Top - Dotti Lace Top, TBA | Shorts - Sara Philips for Sportsgirl, $120 | Cuff - This Is Genevieve Wing Cuff, $TBA | Rings - Sportsgirl, $7.95 each | Bag - Sportsgirl Tapestry Bowling Bag, $49.95
Look 5
Sweater - Sportsgirl Boyfriend Net Sweater, $69.95 | Shorts - Shona Joy An Amour Shorts available at David Jones, $180 | Shoes - Sportsgirl Penny Loafers, $89.95 | Rings - Sportsgirl, $7.95 each
Look 6
Kimono - One Teaspoon Kimono available at David Jones, $280 | Top - Sportsgirl Lace Bandeau, $9.95 | Jeans - Acne Wide Flare Jean available at THAT STORE, $379 | Shoes - Sportsgirl India Creep Wedge, $149.95
Stockists
Acne available at THAT STORE
Bassike available at THAT STORE
Dotti
Nathan Smith
One Teaspoon available at David Jones
Rachel Gilbert
Sara Philips for Sportsgirl
Shona Joy available at David Jones
Sportsgirl
This Is Genevieve
Team
Stylist Rachel Yabsley
Photographer Jessica Klingelfuss
Hair & Make-up Megan Harrison
Model Bel from The Agency Models