May 13th, 2011 by Genesis, Hayley, Rachel Kara, samnang and Lucinda | Published in Headline, Sydney Man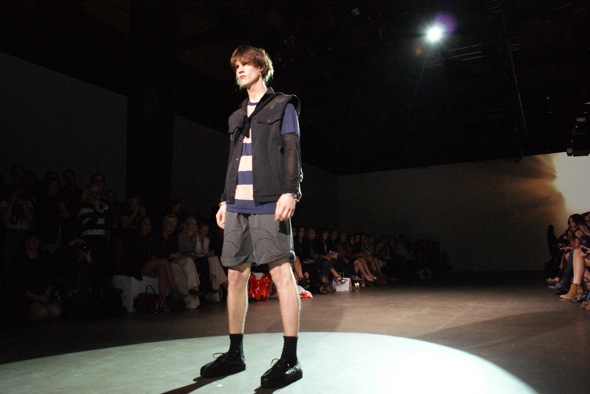 Shorter than the shorts shown at labels Stolen Girlfriends Club, Subfusco or Saint Augustine Academy was the menswear presented at Rosemount Australian Fashion Week. Why is menswear so neglected? The men of the OntheSoS team review what we did see of those hairy legs!
The week of menswear began with a bang similar to the Big Bang at Subfusco. Instead of anti-matter and matter exploding all about the OPT we were treated to a kaleidoscopic-colour galaxy print rendered in tailored mesh and sheer pieces for men, a full suit and relaxed resort wear (a low neckline tee). Subfusco designer Josh Scacheri created this digital print based on the Ancients' four elements of fire,water, earth and air and what came to be was an explosion of colour - the right amount needed for our summer. However if you're a man of muted pastels and neutrals Subfusco also offered up an almost-sheer day blazer paired with shorts in a robin eggshell blue.
The hump of the week also brought a "ba-humph" to the menswear presented. Tuesday saw Nookie offer up resortwear for men in the form of billowing Aladdin pants. A European trend that hasn't picked up in Australian men's fashion circles. Wednesday saw two men's looks walk at Fernando Frisoni, as the men's OntheSoS team came to understand both looks consisted of black and white tailored in the Frisoni style - which felt a bit same same. Had more looks been sent down the runway we might have sat up and taken notice.
And then Thursday came; Limedrop and Stolen Girlfriends Club were the hottest menswear tickets in town. Hipsters and the exceptionally well dressed queued up to see the latest Spring/Summer offerings from both cult labels.  At Limedrop resort silhouettes with a touch of Eastern influence and quirky dragonfruit print summed up the paneled men's collarless shirting, nautical button-up tees, bomber jackets, oxford pleat pants and rolled up chino shorts sent down the runway. In complete contrast Stolen Girlfriends Club returned the fashion crowd to an era of vintage stonewash denim paired with paisley. Only to have that vision re-interpreted a few looks later with grungy denim done in raven hues. It seems the trend of denim on denim isn't going anywhere any time soon. Ellery that afternoon also offered sheer paneled shirting for men and a grandpa knit in cream and the Fashion Week standard - black and white.
Thursday's menswear standout show however was offsite and off schedule to the rest of RAFW. LAB (Local Art Base) Homme presented their pre-collection of SS12 at the Iain Dawson gallery to a strictly exclusive crowd, luckily our Sam was there along with GQ Australia. He reports that LAB offered organic design lines in clean silhouettes controlled by military detailing. With a nod to royalty - the Tudors and the holy mystics of Tibet - LAB's minimalist approach saw a colour palette of mute lemon, electric cerulean, navy, grey and purist white and black. What stood out to us at LAB was the masculine proportions juxtaposed with the elegance of silver lapels and silver sequins. The well dressed man needed a revival and this summer he'll be donning it in LAB!
Fashion week fatigue had clearly taken over by Friday and it was literal cry for the salvation of our souls that Saint Augustine Academy came to our aid and delivered us. Wearable and perfect for the Australian summer that is endless music festivals, garden parties and hanging out with the boys. On offer were safari chic combos trimmed in leather, the Western denim and chambray and the light paisley shirts - ideal for that summer Facebook photo album of you and your mates. Cool kids despair not, the signature SAA of dark alternative cool was retained in its more tailored menswear pieces. Did someone say leather lapels?! Menswear became menswear again when Saint Augustine Academy sent out its' last look: a seasoned gentleman rocking a rockabilly pussy bow and skinny suit paired with none other than cowboy boots. Kapow! Show stylist, James Dykes must also be commended on the styling of the whole affair.
The menswear at Fashion Week did not end however on a SAA note but instead on an actual note. Double bass to be exact! Sharp tailoring and proportional play ups reminiscent of Dior Homme did young up-and-comer Arj Selvam present at New Generation 1 on the Friday afternoon. I sat up and took notice of a minimalist, sharp and very avant-garde man walking down the runway. Shirting in charcoal and bottoms in dirty watermelon undid what could have been a very bland noir et blanc collection. The crescendo of Selvam's collection was that his double bass player was also a model - with that eloquent harmony of structure - menswear at Fashion Week ended on a solemn note.
Words by Genesis Mansilongan and Samnang Sou. Photos by Lucinda Burtt, Hayley Hughes and Rachel Kara