January 20th, 2011 by Rachel and Nate | Published in Headline, Sydney Man | 2 Comments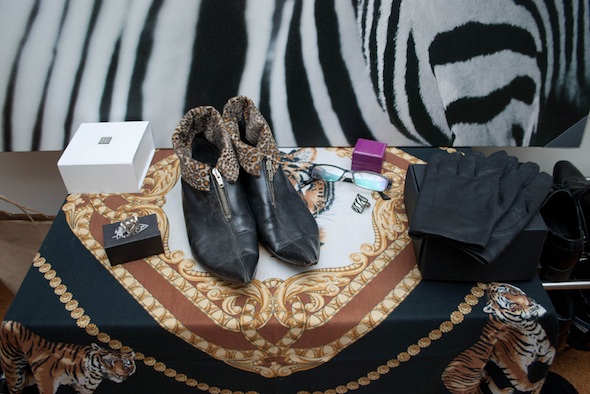 In our first style profile, we feature Australia's Next Top Model model mentor Josh Flinn. Originally from Adelaide, Josh has made a name for himself in Sydney after making the move here in 2004 to pursue his interest in fashion. After a stint at FBI Fashion College, and experiences as brand manager for labels such as Silence is Golden and An Ode to No One, Josh now looks after the public relations for fashion luminary Alex Perry.
We sat down with Josh to talk personal style, local young guns and Sydney vs. Melbourne.
Describe your personal style.
80s. Sharp silhouette. Strong colour blocking. I'm starting to embrace print. I never used to do that before - I used to just wear plain black, plain white. But I really like mixing and matching prints these days. I'm not a big fan of geek chic; I don't think I ever will be. … I like shape, I've always liked strong shoulders, cinched waists, tailored trousers. Kind of Billy Idol meets Bugsy Malone.
I don't wear a lot of colour - I find it doesn't suit me. And I think you should wear what you feel comfortable in. I like neutrals; I like silver a lot.
Favourite pieces in your wardrobe?
My favourite pieces are pieces that I don't wear that often. My most favourite thing is Nero - he's a black mink and leather jacket, with bat-wing sleeves. I wore him all through New York and he was great. It's from Grandma Takes A Trip.
I also love Scotch & Soda [the fox waistcoat]. And my Romance Was Born cardi.
What do you get most mileage out of?
Co-ordinates. I know that's not exciting. But white t-shirts, black singlets, grey trousers. I love high-tops. Sneakers and boots. "Boring" separates.

Who do you draw inspiration from?
Grace Jones is a huge influence. I still love what she wears. I love her Philip Treacy hats; she still wears high-cut leotards and she's like 65. It's amazing. For men, I guess I like Miami Vice, Don Johnson. I love his peach suiting with a lemon shirt underneath - I love that sort of look!
These days I'd have to say Lanvin, I love their stuff. Viktor & Rolf are a huge inspiration. I really like Preen. Christopher Kane as well. Gareth Pugh.
Any local labels?
Yeh, very much so. I really like Elliot Ward-Fear, he's amazing. I like Saint Augustine Academy. … I used to work at Fashion Week, so I'd be exposed to lots of new generation, up-and-coming designers, so it's great now to be able to support them.
Also, 359 on King [an op-shop]. The girl behind there is a genius, she is so cool. She puts all the great pieces together. Dirt cheap. 3 for $20 deal. Every weekend I get something new from her.

Well Elliot Ward-Fear seems due to take over the world.
I don't like to draw comparisons to anybody … but I think he has the potential to eclipse Dion Lee, just with his design aesthetic and the way he runs a business, the way he sees a garment. He's not one of these kids that just got out of fashion school and doesn't know what to do. He's been working in the business for a while, and been supported by people that have been in the business for a while, so he's in a fantastic position to broaden his label and grow it slowly.
How would you describe Sydney's style?
Look, it's not as noticeable as Melbourne style. Sydney, as they say, is a city of villages - so the Inner West is very, very different to the North Shore, which is very different again to Cronulla, that's very, very different to Double Bay, as opposed to Surry Hills. I think Sydneysiders appreciate fashion and are big consumers of it, but I think the majority of people don't actually understand it. So they tend to interpret it in ways that aren't as complimentary as they could be.
Melbourne's always been touted as the fashion capital, but there aren't really any head offices there, so I don't know why we keep banging on about Melbourne. Melbourne's the retail capital, for sure, because they tend to have strips of boutiques and businesses and they support their designers. Sydney's all over the shop - like LA, whereas Melbourne is more like New York. There's more specified centres of shopping, hubs; whereas we're kind of everywhere.
But, look, most of my friends dress really well. I like it. But style is so hard to explain to people, it's so subjective. So I tend not to describe it, it just is what it is. But I think it's pretty good in Sydney, especially with younger people - there's a great culture of knowing how fashion works, how to wear it and how to be excited about it. It's not considered so superfluous.