January 13th, 2011 by Nate | Published in Headline, Sydney Man | 4 Comments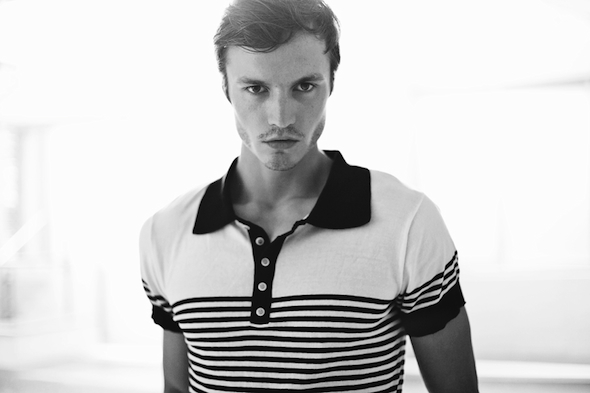 Yes, stripes. They are back (did they really ever leave?). While not exactly reinventing the wheel, the influence of the stripe has finally made its way from last season's catwalk to the sidewalk. But, this time around, the genesis of the trend demands a closer look.
After seasons dominated by silhouette and proportion (think the oversized fluidity of Dior Homme or the meticulous, body conscious minimalism of Raf Simons), designers in their droves looked once again to the stripe during Spring/Summer shows as a means of striking that coveted balance between easy-to-wear minimalism and point-of-interest individualism. On the runways this past season we saw the stripe reborn in the sportswear-inspired collections of Michael Bastian, and Yohji Yamamoto for Y-3. Paul Smith and Kenzo also turned to the trend when carving out their own breed of ingenue. And the stripe made its way to bottoms, seen on trousers at Richard Chai and at Elbaz and Ossendrijver's effort for Lanvin. Horizontal, vertical, off-kilter diagonal: Paris, London and New York wanted us to get the point.

(Photo credits: www.style.com)
And it seems the Sydney man has not been slow to respond in channelling the stripe (consciously or otherwise), albeit in more conservative ways in terms of colour and pattern. But these gentlemen are onto something: a striped garment is best paired with a solid one in a neutral/basic colour such as black and white, grey or blue. Mish-mashing stripes, directions and colours should be left to those a little less risk averse.
So how best to jump on the trend wagon and usher in the new year with new threads? First stop: peruse the curated selection below. We've put in the hard yards so you don't have to. From affordable striped tees starting at well under $100, to a striped Dries Van Noten shirt (on sale!), invest in a trend piece that may just come to define that of-the-moment, easy-to-wear aesthetic you've been looking for.

Oscar Calvo 'Jacob' Polo Shirt with Anchor Button - on sale for $55 online
Junk De Luxe Stripe Button Detail Crew Neck Jumper - $172.40 USD online
Y-3 Border Long-Sleeve Tee - $82.50 USD online
ASOS Stripe Scoop Neck Long Sleeve Top - $34.48 USD online
Paul Smith Jeans Breton Stripe Cardigan - $155.16 USD online
Tim Hamilton Hexagonal Striped Sweater - $51 USD online
Junk De Luxe Cut And Sew Stripe T-Shirt - $68.96 USD online
Acne Breton Long Tee - $140 USD online
Dries Van Noten 'Bordeau' Striped Shirt - € 95 online