May 11th, 2011 by Hannah-Rose, Sophia and Lucinda | Published in Features, Headline | 1 Comment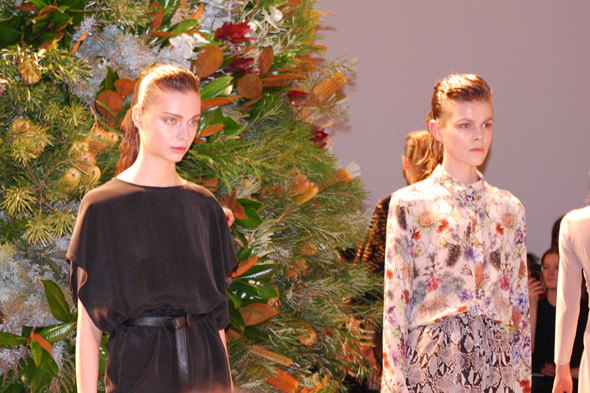 The term "wearable" is a bit of a double edged sword in fashion realms. While it can often signify the ultimate compliment – clothes that translate seamlessly into real life – it can also be a subtle barb; clothes that are boring, banal and utterly without design quality. During RAFW there were two shows that struck us as being wearable in the best possible way, Gary Bigeni and Sara Phillips.
It's not hard to imagine the drapey tee-shirts and leather pencil skirts at Gary Bigeni sliding effortlessly into any woman's wardrobe. A deft hand with his signature silk-jersey and a master in the pop colour of cerulean blue or rust orange, Gary's RAFW 2011 collection offered plenty for his legion of fans to love. But there were hints of the new, too – sculpted leather tee shirts in rich buttery brown, a gorgeous dove grey sweater and tailored pants set, and, hark! A stripe. It's the first time Gary has done a stripe, and what a stripe it was, all thick and wide on flowy maxis, and then tilted on its side to run diagonal on polo shirts and tucked-under mini dresses.
After last season's ode to dusty neutrals, the bright blues, reds and oranges of this collection were a shock to the system. But these were easy clothes for easy living; throw on a cotton sweater in peachy pink, maybe tuck it into a long-line jersey skirt with leather panels, accessorise with a bright clutch. Nothing was difficult to comprehend or digest, but that is not to say there was no food for thought. The packed house left with plenty to mull over, including – but not limited to – the short suit for work (Gary offered up a glorious watermelon pink number), the new it-colour combination of blue and orange, and, of course, a shopping list for next season.
While it's a little harder to picture the sheer croc-print jumpsuits or lace bike shorts from Sara Phillips going from desk to dinner, there was plenty of looks in the show that really worked. Was it the colour that made it so good? All egg-yolk yellow through punchy corals to prettiest pinks. Designers all week showed neon brights but none quite as memorable as Sara. The show had an Australian theme seen in the Waratah print on sheer dresses to the use of a remix of Yothu Yindi's Treaty while the models sauntered around a Henry Hudson flower installation. It was Australia somehow cooler than you've ever seen it, though, where the girls have midriff cut-outs on their dresses perfect for sneaky tanning and they wear scuffed boots with everything.
Sara Phillips was all about showing casual separates – the Australian way. Think drapey jumpsuits in grey cinched in with a mint green belt and black harem pants with a peek-a-boo lace shirt buttoned all the way to the top. Flora and fauna adorned the button downs and pleated mini dresses to give the collection an air of the organic. Sara does sexy well. From the sheer bike shorts poking out from little dresses to the thigh slits on the midi skirts, it was all a careful balancing act of concealing and revealing. And isn't that what modern dressing is all about? Gary and Sara both tread that fine line between hip, sexy, cool and relaxed to create clothes that are instantly desirable and yes, wearable. Sign us up for one of everything, please!
Words by Hannah-Rose Yee Photos by Lucinda Burtt and Sophia Phan