May 17th, 2011 by Vanessa | Published in Features, Headline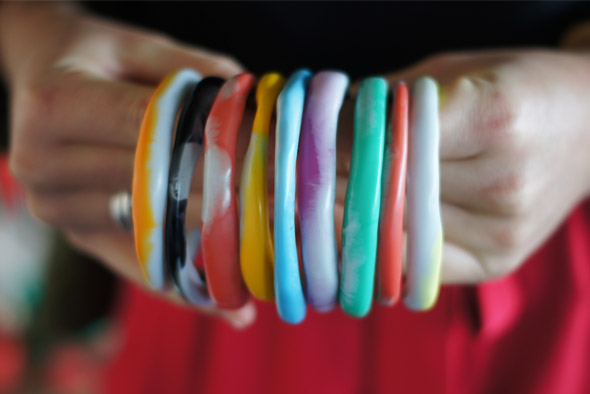 Indeed the designs, hairstyles and makeup palettes et al of RAFW are inexhaustible points for both inspiration and discussion, however, what about the accessories? Despite their possibility of being seen as the most intricate and customised detail of a designer's repertoire, we often forget their power to both transform and enhance an outfit. Hence, let us look at the designs both on and off the runway - these are the accessories of RAFW.
ON THE RUNWAY
From Romance Was Born's elaborate headpieces and frames, to Christopher Dobosz's clear and neon plastic cuffs, the designers of RAFW demonstrated a vast variety of accessories. One of the first shows of the week, Arnsdorf showed a sophisticated range of leather envelope clutches and structured handbags of gold, navy, light blue, and tan leather, adding detail and contrast to the block colours of their designs. Subfusco models wore armlets and earrings of stainless steels and geometric, perspex shards by Drown Jewellery, adding to this season's title, Elements. Enhancing their conceptual designs, models at VagabOnd wore black and white headpieces, some dipping in a V-shape down the forehead, others of twisting arches like the inside of a Nautilus shell. With it's main colour palette of creams, whites and tans, Flannel added an element of pop with the majority of models wearing citrusy lemon heels. Friend of Mine followed in similar stride with metal snake and claw details on the heels of their shoes, along with other accessories such as leather belts, caps and harnesses.
In regards to swimwear, Foxton Danger presented a singlet crafted of woven Swarovski crystals, and models in the Karen Neilsen Collection wore bands around their thighs, which matched their costumes, sunglasses casually slipped in between. Dhini left not a surface untouched, their models wearing sheer stockings giving the illusion of butterflies printed across their legs, continuing the collections overall theme of 'birth.' Saint Augustine Academy presented variations of black and tan hats, adding to the Western ambience of their show. And designs of Mok Theorum were joined with gold cuffs and a metal belts, juxtaposed with the soft flows and drapery of the clothes, whilst models of Poppy Lissiman wore tasseled earrings which dangled lower than their shoulders, adding a quirky and colourful accent to her overall vision.
DESIGNER SHOWCASES
During RAFW, accessories designers showcased their works, with bags ranging from soft leather, such as those by Love & Luck, to knitted recycled plastic such as those by Spoilt by Senka. Jewellery ranged from those made of stone, such as Anitra Metzler's, to replicated bones, a la Serpent & the Swan. Read on for a closer look.
it was me
After meeting at Sydney University, designers Pip and Bec began it was me after it evolved from a smaller label which was established in 2008. it was me is a handmade resin jewellery label, which creates individual, sculptural pieces combining materials not usually associated with jewellery, such as silk wool and lace from their grandmother's wedding dress. Creating each piece is highly laborious including sculpting, moulding and hand sanding. it was me also has also recently launched a  men's line, featuring cufflinks and pendants.
Website
Love & Luck
With the last name Luck and lots of feelings of love, Love & Luck is the collaboration of Sarah and Merlin Luck. Their collections derive from inspiration across history, time and the globe - their collections 'Lawless' being inspired by the style of 19050′s biker culture, 'Skull and Bones' by the catacombs in Paris, and 'Persia' by a recent trip to Morocco. Made of Italian leather, the bags of Love & Luck are buttery soft at touch.
Website

Serpent & the Swan
Inspired by a recent trip to the American Museum of Natural History, sisters Hayley and Lauri Smith, with backgrounds in fashion and fine arts/special effects respectively, adorned their most recent collection with cast zippers, clasps, rings and necklaces in the shapes of bones and bears.
Website
Jewels by Jacqueline
After selling at markets in Byron Bay over eight years ago, Jewels by Jacqueline began as a hobby which has now evolved into a full-time passion. The range consists of staple pendants, bracelets and rings, with the newest collection featuring bolder colours such as pink, blue and amber crystals.
Website
Saint B
Known for its reinvention and treatment of leather, designer, Bernadette, demonstrates creativity with her designs for Saint B which include dipping, dying, flicking, pinching and studding. Her range also includes layered chain necklaces and a range of bags for men.
Website
Anitra Metzler
After designing and thinking of starting the jewellery line for about four years, Anitra Metzler officially started with a trip to India on the first day of 2010. With her favourite place in the world being India, Metzler's collection 'Last Light' is inspired by the mood of a warm night, at the end of the day when excitement for what might happen lingers in the air. Metlzer uses semi-precious and precious stones, sterling silver, gold and silver.
Website
Forget Me Not Jewellery
Created in 2008, Sian Davies' designs have a romantic rock and roll vibe, and are made of sterling silver, rose gold, marcasite and semi-precious stones. Her favourite piece of the collection? The skull cuff.
Website
OFF THE RUNWAY
Of course, inspiration was found equally off the runway, with accessories such from quirky backpacks, leopard print creepers and a Bulgari cuff attracting attention. Many designers have long said that a prime source of inspiration comes from the style of those on the streets, and in which case the streets of RAFW were overflowing. To see more on the streets of RAFW, click through to our streetstyle page.