December 6th, 2011 by Lucinda | Published in Features, Headline | 1 Comment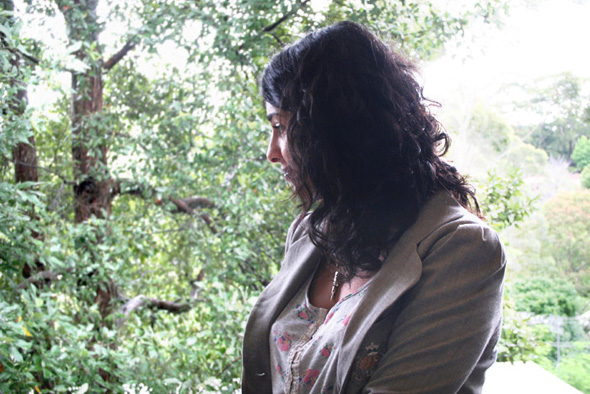 It takes a certain kind of fearlessness to completely transform your life but that's something that Seema Duggal, a former journalist now online boutique owner has in spades. An acrimonious split from Oyster magazine prompted Seema to not only re-evaluate her writing project Side Street, Sydney but also launch Final Episode. Fast-forward a year later however and the Sydney lifestyle has been traded for the seclusion of Avoca Beach, the furs have been ditched in favour of vintage pieces and she's even become a vegetarian. Final Episode remains but the vision has sharpened.
Disillusioned with the speed and unsustainability of the fashion industry, Final Episode is dropping the designer names to support emerging and ethically minded designers. This isn't just a glib promise; Final Episode has chosen to cut their profits to ensure that 60% of all monies made will go back to the designers and 10% to the charity of their choice. New names include Serpent & the Swan, MAN and Disce Mori by Julia deVille plus there's several in-house projects in the works. I met up with Seema at her leafy home to chat about sustainable fashion, running an edited marketplace and the importance of following your own path.
Had you always been interested in working in fashion?
Absolutely not. I started my career in journalism and human rights - even working at Amnesty International for a while - but I became heavily disillusioned with the level of difference I could make after I spent 2 years working for News Limited. When I moved to Sydney, I applied for a few jobs and scored one in fashion PR pretty quickly. I always loved aesthetics so it didn't seem so bizarre at the time. I then started freelancing and wound up being asked to be the sub-editor and later web-editor at Oyster magazine.
What prompted you to start Final Episode?
I've always wanted to run my own business and especially my own store. Journalism is probably still my first passion but Final Episode is perfect because of its editorial spin – we did a zine last year. I think of it as an edited marketplace.
Final Episode launched in September 2010 but relaunched in September this year. Why the change?
I was getting a growing disillusionment with fashion. I just didn't like the way people treat each other and the philosophy that drives it. Working with Oyster really shifted me. I was working 14 hour days on Oyster and Side Street, Sydney. I pushed myself to go above and beyond and was exhausted. Eventually my work on Side Street, Sydney became a "conflict of interest" for Oyster and I was let go. Most people assume that the reason for the relaunch was because Final Episode wasn't doing well but actually it was doing very well. It was the philosophy behind it that didn't sit well with me.
The new philosophy is quite fearless and honest…
There is an element that's about giving a finger to the fashion industry because I don't agree with the way they do things. I felt I'd lost my soul by wearing fur and supporting all the waste. Now I'm supporting emerging designers, working with fair trade designers and trying to bring some consciousness into fashion. People often say I should reduce the amount I give to charity and make a bigger profit but I have no desire to do that. I'd love the fashion industry become more sustainable and supportive.
Why do stores struggle to support emerging labels?
It's hard to get young labels out the doors because customers shop the labels they know rather than focussing on design or quality. Fortunately with Final Episode we deal directly with the designers and don't have to do pre-purchase orders. I'm all about supporting emerging designers. It really takes guts for them do what they love as it's such a competitive industry. I fully appreciate that Final Episode wouldn't have come about without my opportunities in the industry.
Can fashion really be sustainable and supportive?
It has to be! We're trying hard to be sustainable. We're working on getting in Bachhara a label that produces all of its pieces at a sewing centre in Bangladesh.
Tell us about the new Final Episode in-house label.
It's about all about giving ourselves full creative freedom. I'm really passionate about the new vintage line which encourages recycling and we're also launching an objects line soon. I'd love to do shoes in the future maybe using recycled leathers. I've become a vegetarian and won't buy new leather again.
How would you describe your style?
I love vintage, I like messy. I love humour too – Troy Parker and Matt Stone [South Park creators] are my heroes – and fun pieces that don't take themselves too seriously. I have no desire to wear all designer. It's all about nice shoes and cool jewellery for me.
As a former LA girl, what do you think about Sydney?
The fashion industry in Sydney is very tall poppy, very who-you-know. Come on, this is Australia! It's not Paris. I love Sydney though; it's truly the best city in the world. I love the coffee, the beaches and the amazing nature.
What's next for Final Episode?
Aside from the objects line we're launching a print project later in December with artists Shannon Crees, Bec Winnel and Belinda Suzette amongst others. I think I need to learn to take one step at a time! It's fun to have a project you can play with.
Take a look at Final Episode to browse their labels and find out more.
Article was updated to correct inaccuracies.