April 20th, 2012 by Vanessa | Published in Features, Headline | 2 Comments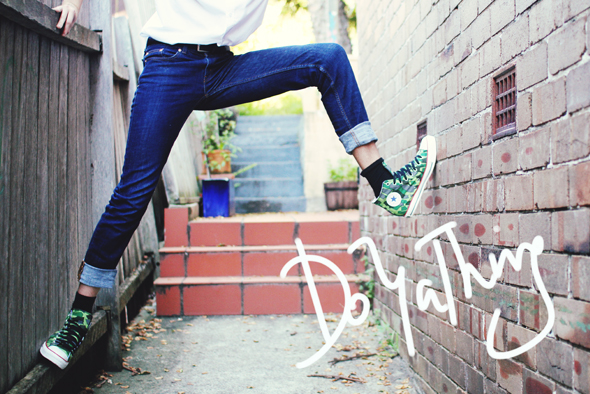 Converse's recent collaboration with the virtual band Gorillaz has resulted in four limited edition designs and, with the contributions of Andre 3000 and James Murphy (Outkast), one kick-ass song.
The four limited edition designs - three hightops and one lowtop - feature artworks by Gorillaz co-creator, and comic book artist, Jamie Hewlett. The designs include sketches of the Gorillaz characters and motifs, and in particular the camouflage pattern which appeared on the cover of the band's self-titled album from 2001.
Simultaneously, Converse has also released the song 'DoYaThing,' a collaboration between Gorillaz, Andre 3000 and James Murphy of Outkast. The song follows a legacy of collaboration, instigated as part of Converse's 'Three Artists, One Song' project which has previously involved the likes of Kid Cudi, Kimbra, Mark Foster (Foster the People), and LCD Soundsystem. Furthermore, in the spirit of celebrating collaborations 'DoYaThing' (and in fact all songs from the 'Three Artists, One Song' project) are free to download.
Photography Vanessa Low
Model Jim Jakubowski (currently unrepresented)
Converse Chuck Taylor All Star Gorillaz collection is available at GLUE store and Converse online.