June 2nd, 2011 by Genesis | Published in Headline, Sydney Man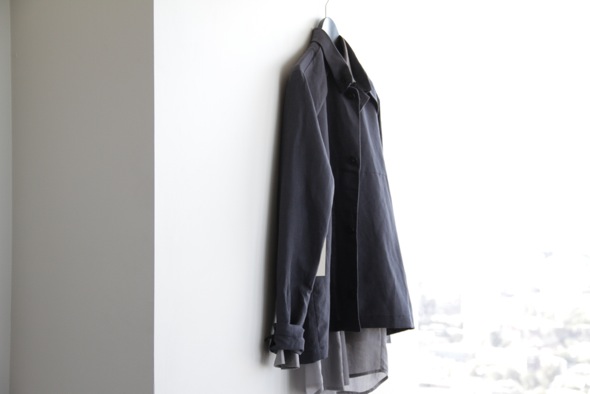 The brothers Britten-Finschi, Alexander and Tim form Melbourne menswear label From Britten. A menswear label that carries the staples of any decent man's wardrobe but is brave enough to be creative and push rigid, masculine details in these staples. Well-made and immaculately tailored, From Britten's workwear inspired pieces work for the Sydney man in both Spring/Summer and Autumn/Winter.
Never veering too far from their rustic palette their current winter collection is a fusion of distant inspirations and elements – Gattaca meets early twentieth century engineering. Winter shirting in their subversion of the tab collar; double breasted blazers and coats; and trousers that gather at the hem are rendered "rough, textural, colourless and tonal". The minimalist aesthetic - an aesthetic that works for the label but is far from blandness.
Yet the devil is in the detail and this is perhaps From Britten's strength. "There is an importance on knowing the history of the clothing we find our influences in and classic pieces (shirt or blazer) we use. We feel knowing that history helps in developing new products with substance behind them. Once you know why things are the way they are, you can then twist the rules and be playful…". Words from the designers themselves – it speaks volumes in relation to their upcoming Spring/Summer collection which I was fortunate enough to have a sneak-peek of.
Again designing with a workwear base the collection is inspired by garden wear for men. The horticulturist takes centre stage in raglan shirts with sports sleeves; summer blazers with printed lining; Bermudas with pockets in the seams; and From Britten's quirky offering - the "shacket". A shirt and a jacket fused into one wearable piece. Made from a metal nylon blend, the piece is both durable and versatile. Functionality also plays a role in their Spring/Summer 11-12 offering with the brother duo designing iPhone/smartphone pockets in their linen coats (as pictured) and cotton shirting.
What separates From Britten from other menswear labels on the market perhaps is their old school approach (and that's not a bad thing!). The two in person act as one tailor with a quirkyness and love for their own product. They believe in a simple aesthetic that functions and is based in knowledge – telling a story of a man who cares about his wardrobe and knows how to work with it in style. Something which is a rarity among men these days.
Moderately priced, the Sydney man can take his pick from the From Britten current and upcoming collections. Shirts and pants cost from $180 - $210; 'shackets' from $220 to $250; coats and jackets from $300 and the more tailored pieces setting the Sydney man back about $600. From Britten is stocked in Sydney at Incu and Above The Clouds.
Click here to experience From Britten online: http://www.frombritten.com.au/