June 3rd, 2011 by Hayley | Published in Beauty, Headline | 2 Comments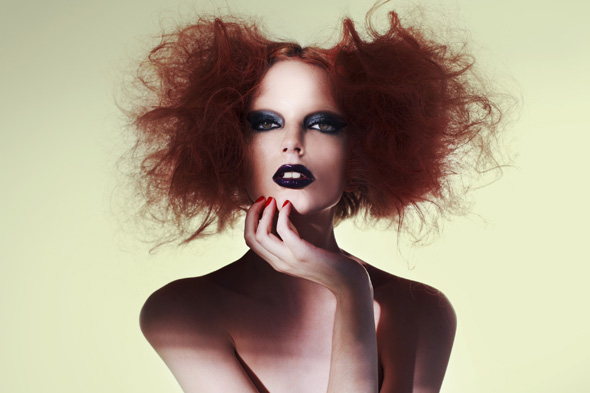 Drawing inspiration from circus performers and burlesque dancers, trying to capture their eclectic and alluring nature, the talented team at Muse Hairdressing and Redken collaborated to bring you this very vibrant beauty editorial inspired by this seasons trends.
"Redheads have long been known for their fierceness and this this year they really shine. From pastel apricots to fluoro coppers redheads have made a comeback. Using Redken Rubilane colours we have created fabulous flawless reds with incredible longevity and vitality that suit all skin tones" says Rachel Busby, Colourist at Muse Hairdressing.
"It was important for me to keep the natural beauty of the model while still maintaining the essence of the circus theme. For me this season is about dark intense colour while maintaining areas of the face light, dewy and highlighted. The AW11 is all about soft light eyebrows and strong lips that pop" says Byron Turnnbull, Hair & make-up artist at Reload agency using MAC Cosmetics.
"This is an exploration of hyper texture, we delivered a dramatic larger than life feel to the hair to highlight this seasons focus on movement & volume. While some of the looks have a soft sculptural appeal reflective of the thirties others give a totally wearable now inspiration. No matter day wear or night glamour get the locks moving & full." Says Phillip Barwick, Artistic Director for Redken & Director at Muse Hairdressing.
Team
Photographer Jessica Klingelfuss
Hair Stylist Phillip Barwick, National Artistic Director for Redken & Director at Muse Hairdressing
Hair Colourist Rachel Busby, Redken artist & Head colourist at Muse Hairdressing
Hair Assistant Zach  Klingner,  Muse Hairdressing
Make-up Byron Turnbull,  Reload Agency & Hair stylist at Muse Hairdressing using MAC Cosmetics