December 7th, 2010 by Dana Fernie, Megan and Jessica | Published in Headline, The Look | 8 Comments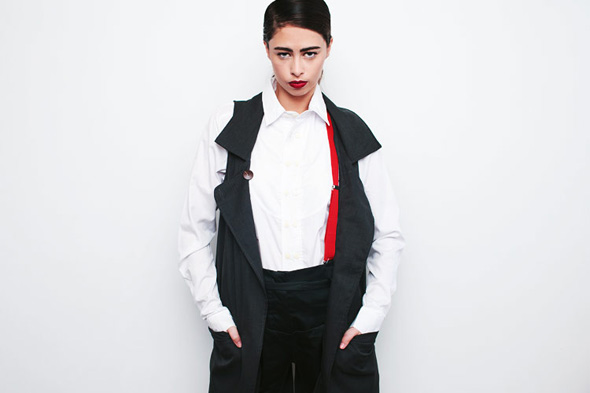 The notion of androgyny has been a constant in fashion since the industrial revolution. When Yves Saint Laurent introduced Le Smoking in the spring 1967, everything changed again. Think Helmut Newton's black and white images of a young woman, cigarette in hand, hair slicked back and wearing a man's three piece suit.
These incredible men, and how they depicted strong, confident, sexually defiant women, were my influences for this shoot. I wanted to bring young and upcoming Australian brands to the style that the world has been moving forward with for decades. A woman does not have to be half naked to be sexy; A collared shirt with the top button undone, a loosely worn tie, all with a fierce red lip can be all she needs. The classic vestiges of a man's wardrobe have become staples in a woman's wardrobe, and still make your jaw drop.
Look 01
Crested Double Button Shirt - The Twelfth Letter - $119.95 | Sleeveless Trench - The Twelfth Letter - $139.95 | Braces - Stylists Own | Sateen Pant - Pol Design - $299 | Black Boots - United Nude - $295

Look 02
Tuxedo Jumpsuit - Saint Augustine Academy - $390 | Gold Bow Tie - Gala Curios - $450 | Black Boots - United Nude - $295
Look 03
Shirt - Jaime Lee - $350 - from Capital L | Black tailored cropped pant - Karina Pires - POA | Tie - Stylists Own | Black Boots - United Nude - $295
Stockists
Capital L
Gala Curios
Karina Pires
Pol Design
Saint Augustine Academy
The Twelfth Letter
United Nude

Team
Stylist: Dana Fernie
Photographer: Jessica Kingelfuss
Hair & Make-up: Megan Harrison
Model: Marnie Simpson from Chadwicks