December 20th, 2010 by Rachel, Megan and Jessica | Published in Headline, The Look | 1 Comment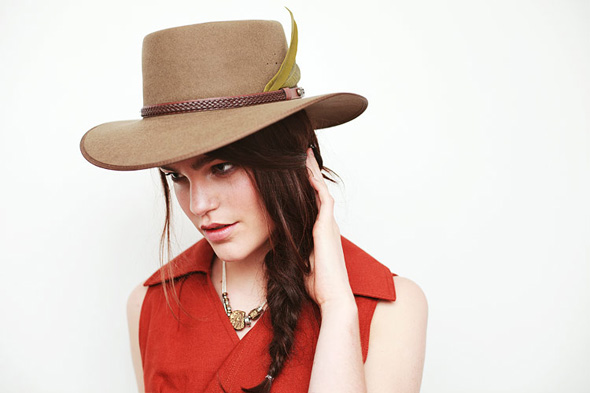 I love a sun-burnt country. Growing up, my family seemed to be on a never ending chase to soak up all Australia has to offer – and it really stuck with me. The beaches, the deserts, the forests, the mountains; drop me off anywhere and my heart will swell with pride and contentment.
Ultimately though, one of Australia's greatest features is its rich, vivid colour palette. Deep rusty red, dry grassy greens, the whitest of white sand, the clear saturated blue sky – all so unique to this land downunder. Infuse these colours with the hard wearing fabrics ideally suited for working the land, crafted into modern, structural designs, and you've got a Look as stylish as Emmanuelle but Aussie as Vegemite.
Look 01
Plainsman Hat - Akubra - $139 from Strand Hatters | Canvas Vest - Arnsdorf - $335 from Capital L | Leather Shorts - MyPetsQuare - POA | Gold Nugget Necklace - Matt Weston - POA from We're Shop | Clogs - Nellie & Me - $129.95
Look 02
Tablelands Hat - Akubra - $139 from Strand Hatters | Tee - Nathan Smith - $54.95 | Sleeveless Trench - The Twelfth Letter - $139.95 | Pants - Minty Meets Munt sweetie pants- $119.95 | Belt - Dada & Co - $59.00 | Necklace - Gala Curios rope knot necklace - $195 | Ring - Gala Curios friller ring - $185 | Bag - Katzi - $289.00 | Khaki sandals –  Osklen - $265.00
Look 03
Plainsman Hat - Akubra - $139 from Strand Hatters | Dress - Above - POA | Cowhide bag - Naomi Levi - $180.00 | Clogs - Nellie & Me - $129.95
Stockists
Above
Capital L 02 9361 0111
Dada & Co 1800 323 226
Gala Curios
Katzi
Minty Meets Munt
MyPetsQuare
Naomi Levi
Nathan Smith
Nellie & Me
Osklen 03 9416 3599
Strand Hatters
The Twelfth Letter
We're Shop
Team
Stylist Rachel Yabsley
Photographer Jessica Kingelfuss
Hair & Make-up Megan Harrison
Model Caitlin Buckle from Chadwicks