February 2nd, 2011 by Nate, Jessica and Megan | Published in Headline, Sydney Man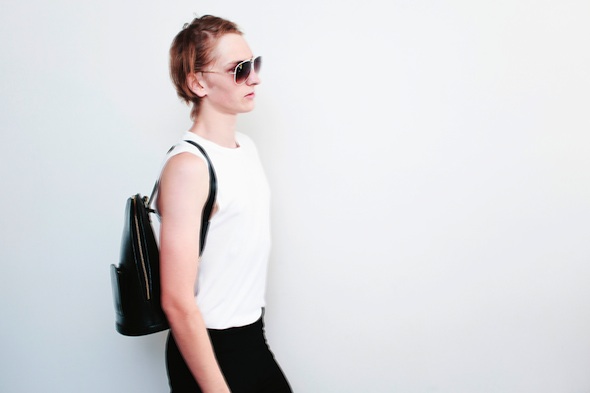 Living in a city such as Sydney necessitates that our wardrobe becomes, at least in part, a function of the weather; that our lifestyle shapes our street style. By channelling the active, athletic trend that manifested on the runways of Spring/Summer shows last year, you can stay cool this summer - in both senses of the word.
Minimalism seems to be defining the current fashion zeitgeist, but it is important to remain aware of the difference between simple and simplistic: too often minimalistic menswear falls on the wrong side of the ledger. Keeping to simple colours such as black, white, grey and nude (perhaps the most poignant legacy of McCartney, Philo and MacGibbon) is wise; but you can imbue menswear minimalism with the edge it needs by adopting athletic, sporty silhouttes and markers: bike shorts, fitted tanks, skins and backpacks, for example. Sport never looked so haute.

Look 1
Sunglasses - Chronicles of Never 'Tail of Sire' black sunglasses $300, from The Candy Store | Vest - LACOSTE sleeveless zip vest in black $299 | Top - Zambesi 'SIGNALMAN' tulle long sleeve top $250 | Shorts - Injury biker shorts $145, from The Candy Store | Shoes - Silence is Nothing 'No Eyes Big Ears' black leather shoes $299, from Verve | Bag - KATZI leather laptop bag $199
Look 2
Sunglasses - Costalots double bridge 83s in sanded grey $275 | Jacket - Zambesi 'TOURIST' navy twill jacket with raglan sleeve $540 | Singlet - BONDS grey ribbed tank $19 | Shorts - Adidas 3 Stripes black shorts $50 | Skins - Reebok compression tights in black $75 | Wallet - B Store 'Mason' wallet in minerva grey $105 | Shoes - Adidas (stylist's own)
Look 3
Sunglasses - DITA 'Condor' sunglasses in satin white and shiny 18K gold $495 | Singlet - Calvin Klein white tank (stylist's own) | Pants - Martin Margiela black padded neoprene pants with tube detail $1150, from Zambesi | Bag - Second-hand Louis Vuitton black backpack $140, from Zoo Emporium | Shoes - Reebok Pump Reeamp Mid shoes in white and basil green $240 | Wallet - B Store 'Emma' wallet in minerva tan $220
Look 4
Sunglasses - AM Eyewear 'Julzie - Chess' black sunglasses with inner white $249.95 | Vest - LACOSTE sleeveless black/white sweatshirt $199 | Pants - Zambesi 'DODGERS' white/grey fleece trackpants $305 | Shoes - Antoine + Stanley 'Oliver' sandals in black leather $149 | Black Gloves (stylist's own)

Stockists
AM Eyewear: (02) 9357 4550
Antoine + Stanley
B Store: (02) 8060 3006
BONDS
Costalots: (02) 8060 3006
DITA
KATZI
LACOSTE: (02) 8306 3376
Reebok: 1300 364 964
The Candy Store: (02) 9380 9009
Verve: (02) 9358 5300
Zambesi: (02) 9331 1140
Zoo Emporium: (02) 9380 5990

Team
Stylist: Nate Kraizelburd
Photographer: Jessica Klingelfuss
Hair and Make-up: Megan Harrison
Model: Jacob from The Agency Models