May 16th, 2011 by Sophia, Rachel Kara and Vanessa | Published in Beauty, Headline | 1 Comment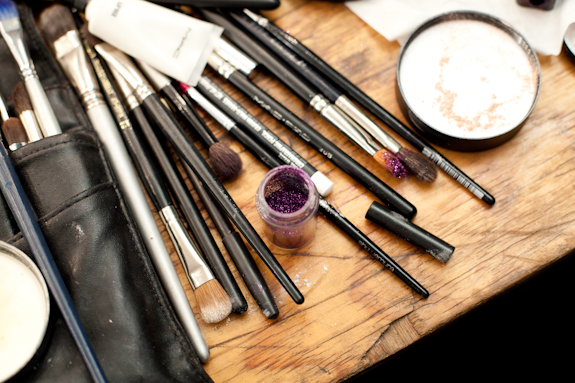 The beauty looks displayed at this year's Rosemount Australian Fashion Week were as trendsetting as the outfits the models were wearing. Like the clothes displayed, we also saw in hair and make-up: pops of colour, flirtatious nudes and daring shapes. From colour blocking lips at Dhini to a hair-raising affair at Bowie, these are our favourites (whether you dare to try them or not is up to you!).
Face: Dewey skin! Forget a matte slash cakey finish, this season is all about looking luminous and fresh skin. Think Sara Phillips and Magdalena Velevska. Keep your base simple and focus your attention on your eyes and lips. A hot tip we learnt is to mix a little bit of your blush with some bronzer to achieve that extra bit of glow.  Try for a crème-based formula, which will give you more of a natural flush than leaving you look like a disco ball.
Eyes: It's time to add that sparkle to your eyes! This year we saw spectrums of gold and glitter, creating the illusion of brighter eyes. Though, when we say glitter, we don't mean a flashback of the 70s, but rather a subtle sheen.  It is part of the effortless look this season. Such an example is the make-up at Arnsdorf. Tony Baumann from NARS said: "We wanted a contraction of beautiful with an edge."  Try NARS Duo Eyeshadow in Indian Summer and Cream Blush in Gold Member to replicate the look.
Lips: Colour, colour, colour! Bright shades were spotted at Lover, Yeojin Bae, and Karla Spetic. The most popular shade, however, was coral. Bursts of orange and tangerine were the colours of choice. Flattering on most, if not all, skin tones, this is a hue worth investing in. We recommend MAC LipMix in Orange and MAC Lipstick in Morange.
Nails: Nude was the way to go this season! Ranging from ballet pink to ecru, natural was opted at most shows. Digits were filed into a rounded edge to give it a softer finish. Remember to apply a base coat beforehand and a topcoat afterwards to keep your colour fresh and long-lasting. Try CND Nail Colour in Buff and Tutu, which claim to last up to 14 days.
Hair: Effortless! Elegant! Chic!  Glossy manes were styled in such a manner that they looked so sophisticated, but yet, were appropriate for day-to-day lifestyles. Models' tresses were kept low-lying in all sorts of forms – buns, ponytails and plaits. Manning Cartell, Rachel Gilbert and Ellery, these low-maintenance looks were sported everywhere! They helped to convey the laidback attitude of Australian women, whilst also looking polished in constructed and polished attire.