June 9th, 2011 by Genesis and Rachel Kara | Published in Headline, Sydney Man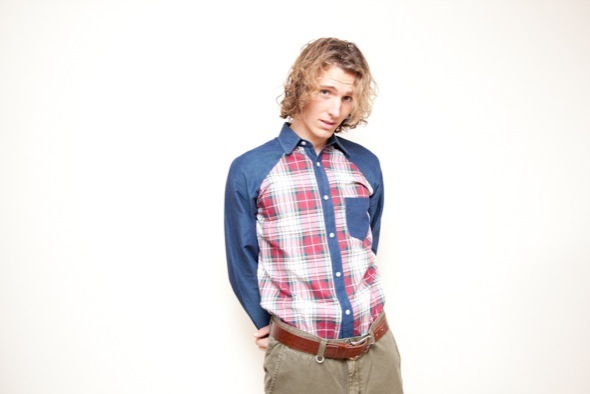 Be careful of the curse that falls on young lovers, it starts so soft and sweet and turns them to hunters…sings modern day Euterpe, Florence - of the Machine. The young Sydney man becomes like hunter and layers for perhaps the city's coldest winter to date.  
Emperors, kings and the greatest of men hunted. Epic tales were written about those who did. Symbolically the hunt came to glorify the quest for truth and salvation and in more secular circles - the struggle of the lover to attain his beloved. Although those days are long gone, the legend of the hunt persists to inspire Fall/Winter menswear collections. Just think Pringle of Scotland, Lanvin and Dries Van Noten FW11. For this winter mens look we have made pelt of such tradition and updated the huntsman's wardrobe. Faux furs, check shirts and heavy corduroys. What he hunts for is none other than a heart to warm this winter.
Look 1
Raglan shirt - Orri Henrisson - $209 | Worker chinos - Neuw - $139.95 | Belt - RDX - $49.99 | Boots - Billie - $99.95
Look 2
Duffle coat - Orri Henrisson @ Estate of Mind - $429 | Check shirt - Zanerobe - $119.95 | Corduroy jeans - Levi's - $119.95 | Saw belt - Loop - POA | Check trapper - Sportsgirl - $39.95 | Boots - Billie - $99.95
Look 3
Multi-functional jacket - Levi's - $179.95 | Shirt - JAG - vintage | Distressed chinos - Neuw - $139.95 | Shoes - Mere Footwear - $155 | Saw belt - Loop - POA | Grey trapper - Sportsgirl - $39.95 | Scarf - vintage
Look 4
Check shirt - Zanerobe - $99.95 | Cardigan - Orri Henrisson - $225 | Check shorts - Neuw - POA | Boots - Billie - $99.95 | Scarf - vintage | Thermals - stylist's own
Stockists
Billie
Estate of Mind
Levi's
Loop
Mere Footwear
Neuw
Orri Henrisson
RDX
Sportsgirl (who says we can't borrow from our sisters' wardrobes!)
Zanerobe
Team
Stylist Genesis Mansilongan
Photographer Rachel Kara
Hair and Make-Up Sarah Scott
Model Zeke at Priscillas Model Management