June 1st, 2011 by Hayley | Published in Headline, The Look | 8 Comments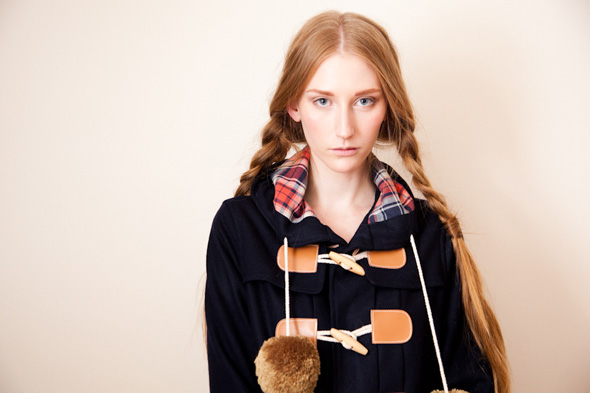 The Mori Gyaru, or Forest Girl style has been developing a cult like following on the streets of Tokyo (as all good looks do over there). The look is all about being at one with nature, with the wearer looking as if they have just stepped out of a forest. Think neutral tones, lots of layers, baggy cuts, embroidery and fringing. The trend has even spawned mutations with the new Swamp Girl look (Numa Gyaru) becoming popular for girls who enjoy the Mori Gyaru style but for all the wrong reasons. Here is part one of our look inspired by the Numa Guyaru manifesto as posted on Mixi (Japanese social networking site)
We love loose-fitting dresses, but people often ask us if we're pregnant.
We like leggings, but that's because long johns are great when it's cold.
We like motifs depicting sweets or animals, not because they're cute but because they look delicious.
We like flat heels not because they're especially fashionable but because they're easy to walk in.
We like fairy tales but also check out erotic fiction.
Short nails make us look natural but are also useful when we have to pick our noses.
Trying to be cute we wear our hair long and curly with a fringe but we actually end up looking more like Sadako (scary haired lady from "Ring" who climbs out of a well to menace people).
Look 01
Coat - Gorman "Winston Duffle Coat" in navy, $299.00 | Pants - Minty Meets Munt "Slim Jim Cargo" in khaki, $129.95| Boots - Sportsgirl Marley mocassin, $79.95. | Bag - Sportsgirl bag, $59.95.
Look 02
Jacket - Minty Meets Munt "Cassidy Suede Jacket", $89.95 | Skirt, Gorman swing skirt in gold, $199 | Beanie - Sportsgirl, $24.95 | Belt - Sportsgirl, $24.95 | Bag - Sportsgirl fringe bag in rust, $99.95 | Heels - Sportsgirl fashion wedge, $149.95.
Look 03
Jumper - Sportsgirl Fringe Jumper, $119.95 | Shorts - Minty Meets Munt "Sonia" shorts, $79.95 | Leggings - Kissin Cussin High Waisted Legging in Beatnik Butterfly, 79.00 | Boots - Sportsgirl "Savannah Hiking Boot", $149.95.
Stockists
Evil Twin - (02) 9212 4788
Gorman
Kissin Cussin
Minty Meets Munt
Sportsgirl
Team
Stylist Hayley Hughes
Photographer Rachel Kara
Hair & Make-up Sarah Scott
Model Lauren Moody from Chadwicks