July 14th, 2011 by Hayley | Published in Beauty, Headline | 1 Comment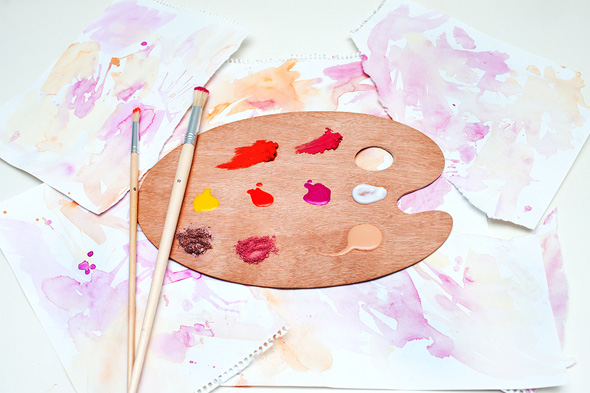 Make up gets fun with bright colours making a splash at RAFW and on beauty counters across the country. We asked top make-up artists to share some tips on how to make brights work for you.
From Left to right
Top Row Sisley Paris hydrating long lasting lipsticks in L30 (orange) and L9 (pink) $62 each, available at David Jones. Bright lips were all the rage at RAFW, be brave and colour block your lips by painting the bottom lip a different shade to the top. These lipsticks are fantastic as they don't dry out your lips and last all day.
Middle Row Kit Cosmetics High Impact nail polish $15.95. OPI On Collins Ave nail polish $19.95 and OPI That's Hot Pink nail polish$19.95, both available at David Jones. Fuchsia, yellow and orangey-red are the hottest colours for nails. Did you know you can mix nail colours to create a new shade? Well now you do, so get mixing to make the custom shade you've been looking for. Napolean Auto Pilot Pre-Foundation Primer $49.50. Just like an artist must always paint their canvass with a primer before starting to paint, so must you. A good primer is essential for laying a good foundation and getting the most from your pigments.
Bottom Row  Sisley Paris Pressed Powder in Sand $125, available at David Jones. A great blush is a must and this shade is perfect for most skin types. Mac Cosmetics Wonder Women pigment in bright fuschia $42. A fun limited edition eye shadow from the pigment specialists. Mac Cosmetics Select SPF 15 foundation $49. A great matte foundation which also hydrates and protects your skin from the sun's harmful rays.
Stockists
David Jones (Sisley Paris and OPI)
Kit Cosmetics
Napolean
Mac Cosmetics

Team
Stylists Hayley Hughes & Rachel Yabsley
Photographer Jessica Klingelfuss