January 3rd, 2011 by Emily, Jessica and Megan | Published in Headline, The Look | 2 Comments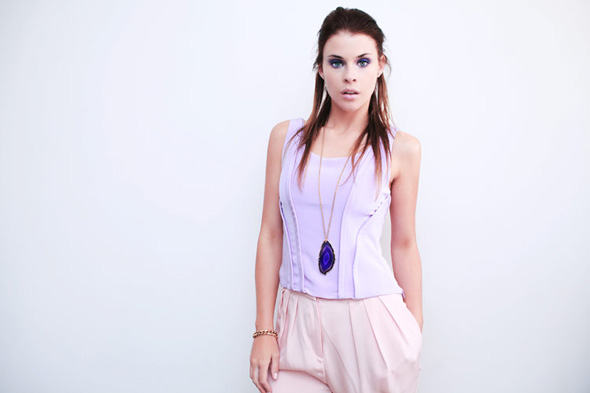 Cotton candy pink, baby blue, lilac and mint green: no longer is the world monochromatic nor does your wardrobe have to be! Perfect for summer, pair loose fitting tees with long maxi skirts or a tailored lilac top with high waisted  baby pink trousers and jelly sandals - it's all about letting loose and making fashion fun again! But most importantly don't forget to accessorise.
I've complimented each look with crystal necklaces, gold chains, amazing textured lace pendants and hanging earrings - the point is to loosen up a bit and remember to find complimenting pastel colours. With warmer weather approaching by the day, its time to ditch black and white and bring out a unique take on a colourful wardrobe.  If you are reluctant to wear head to toe in pastel shades, you can use grey as I have done to neutralize the overall look. Mix tailored with sheer, floaty fabrics to give a glamourous, feminine yet sophisticated look.
Look 01
Top – Arnsdorf inflection tank– from Capital L - $240 | Trousers – Katrina Pires – POA | Crystal Necklace – Peep Toe Shoes – POA | Gold chain bracelet – Mimco – $89.95 | Jelly Sandals – Stylist's own.
Look 02
Owl Silk Top – Alpha 60 - $99 | Draped Skirt – Katrina Pires – POA | Blazer – Sara Phillips from We're POA |  Earrings – Gala Curios - $285.
Look 03
Leather Dress – Minty Meets Munt - POA | Digital Print Jacket – Limedrop - $445 | Necklace – Gala Curios - $285 | Suede Wedges – Stylist's own.
Stockists
Alpha60
Capital L 02 9361 0111
Gala Curios
Karina Pires
Limedrop
Mimco
Minty Meets Munt
Peep Toe Shoes
We're
Team
Stylist Emily Fang
Photographer Jessica Kingelfuss
Hair & Make-up Megan Harrison
Model Rebecca Frost from Chadwicks